SIS: End of Year Grading Requirements for Teachers

The following steps are used to finalize grades in Teacher Connect.

Teacher Connect > Gradebook
All teachers: K-12 and CTC
1. Calculate Final Course grades when the course ends, but only after posting all required Marking Period grades first.

a. Use the dropdown at the top of the final Marking Period Grade column and select Calculate Numeric Scores

b. Enter Comments for the Marking Period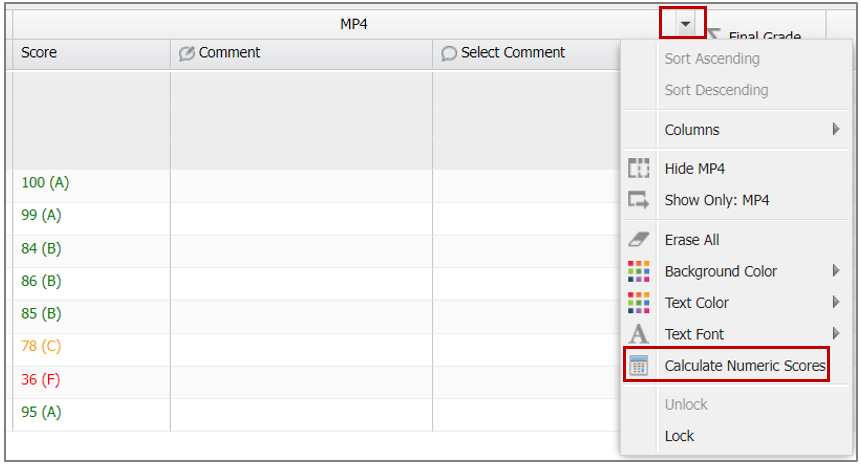 c.
Use the dropdown at the top of the F
inal Grade
column and select select
Calculate Numeric Scores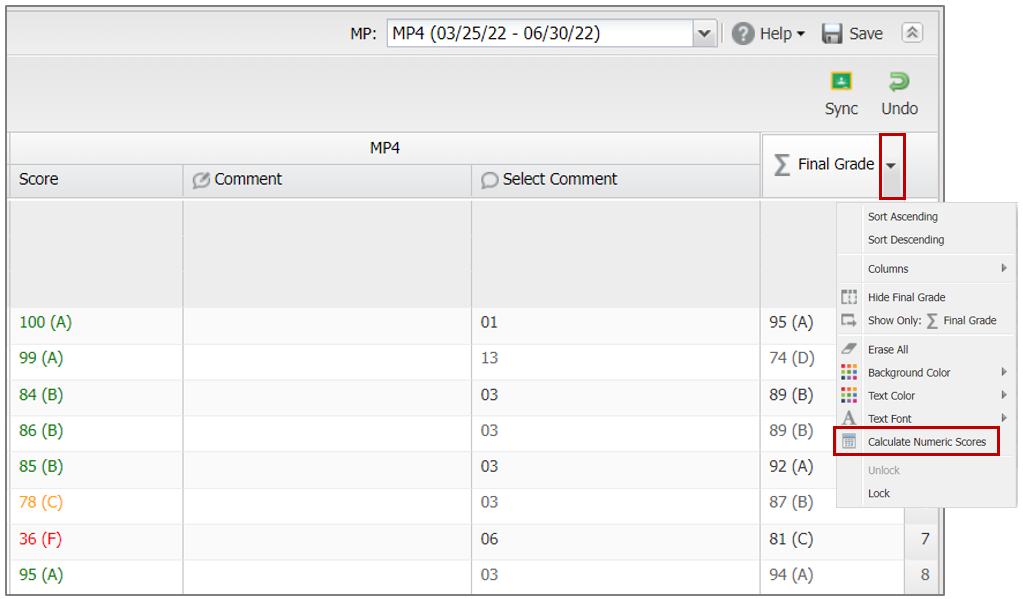 This must be done for each course.

If you make ANY assignment grade changes after doing the above steps, you will need to RECALCULATE the final Marking Period Grade and then Final Course Grade.


Teacher Connect > Learning Standard Screen
All CTC teachers and Standards Based Report Card Teachers
If you used gradebook assignments with attached learning standards in the individual Marking Periods, do the following:

1.
Go to EACH marking period view ( MP1, MP2, MP3, MP4 ) and click Update in the upper right corner.

Make sure no orange grades are present. Orange means the grade needs to be updated.

2. After updating ALL marking periods, switch to the FINAL Grade view in Learning Standards/Task module.

a.
When in
Final Task/Standard
view, click on
Calculate Grades
in the upper right corner.

4. We suggest to go into the "Dropped Student" and Transferred Student" views and update all marking periods. Then Calculate Grades in the final grade screen as done in step 3 with the Current Students. If these students would come back the next year, their task grades would be in place also.

This must be done for each class.

This MUST be done for final task/standard grades to roll over into the new year.

There should be NO ORANGE GRADES. Orange needs to be updated (in marking periods) or calculated (in Final Grade view).

If CTC teachers simply selected a final task grade throughout the year then you do not need to "Calculate Grades" on the final grade screen. Simply review and update any final task grade as necessary.